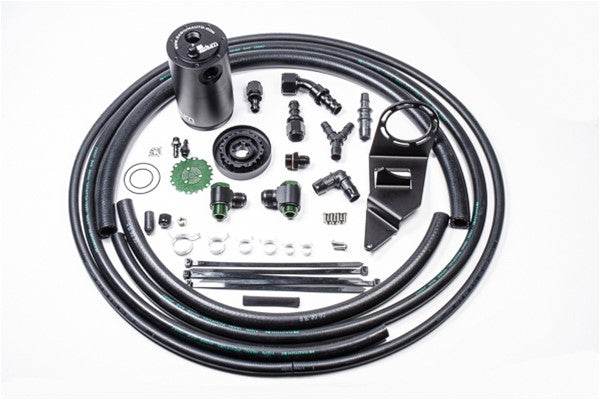 Radium Engineering
Radium Engineering Air Oil Separator AOS-R – 2015-2020 Subaru WRX STi
---
High-powered modified Subaru engines tend to generate excessive blow-by oil and gasses. In these cases, an ordinary small catch can may quickly fill with oil and not be adequate. Like the Radium Engineering Subaru Dual Catch Can Kit, the AOS (Air Oil Separator) kit is responsible for keeping blow-by oil and other pollutants out of the intake pipe, manifold, turbocharger, and intercooler during all engine loads. The main difference is that an AOS-"R" system "returns" what is collected back into the oil pan so there is no servicing required. The built-in heater keeps water from condensing in the AOS. And because water is more dense than oil, there is an integrated water trap found around the bottom perimeter of the can. This prevents water from descending into the oil pan if ever-present. Furthermore, because the water is trapped against the heater, it will eventually boil and evaporate out of the system. The AOS is constructed of three CNC machined sections that screw together and are sealed with O-rings.
Measurements
AOS Height: 6.94″ (top of the dipstick to bottom of AOS)
AOS Diameter: 3.45″ Round
AOS Capacity: 20.3 oz (600mL)
---
Benefits
-Effectively raises the octane and increases engine performance with cleaner inlet air
-Prevents oil buildup in the intake or intercooler system walls, throttle body, intake manifold, etc.
-Lowers hydrocarbon emissions
---
Included
-Machined aluminum Radium Engineering Air Oil Separator
-Specially designed mounting bracket (see note at bottom of page)
-All necessary SAE J30R7 rated PCV/Emissions hose
-Coolant hoses and fittings
-All necessary aluminum fittings and hose-ends
-Stainless steel mounting hardware
NOTES
*If operated in freezing environments, Radium Engineering recommends installing insulation sleeving (not included) over any hose exposed to cold airflow. This will help prevent the natural phenomenon of water condensation freezing and potentially clogging the hose.

*For RHD vehicles, our Universal AOS-R must be used for custom mounting and plumbing.

*The Radium AOS-R kit may not be compatible with all other aftermarket products. 
---
Share this Product
---
More from this collection