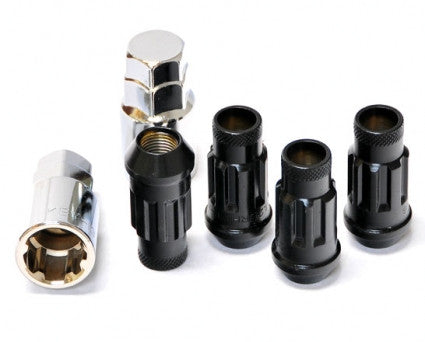 Muteki
Muteki SR48 Black Wheel Locks
---
Pitch: 12x1.50mm or 12x1.25mm
Color: Black
Length: 48mm
Lug Type: Open Ended
Adapter Socket Size: 17mm Hex
These are the optional wheel locks to match the popular Muteki SR48 lug nut. Each wheel lock set included 4 wheel locks with 2 key adapters. There are 5 different unique lock patterns, making the lock safer from thieves. Made of durable chrome vanadium, each lug weighs in at a mere 2 oz! They're also open ended, making them easily adaptable for short or extended wheel stud usage.
Please specify size.
M12 x 1.5 application: Fits Hondas, Acuras, Toyotas, Lexus, Mazda, Mitsubishi etc.
M12 x 1.25 application: Fits Subarus, Nissans, etc.
NOTE: LUG NUTS ARE MADE WITH TAPERED BOTTOMS SPECIFICALLY FOR AFTERMARKET WHEELS. DO NOT USE THESE TUNER LUGS FOR YOUR FACTORY WHEELS. WE NO LONGER ACCEPT RETURNS ON LUG NUTS FROM CUSTOMERS WHO ATTEMPT TO USE THEM ON FACTORY WHEELS. THESE LUGS ALSO DO NOT FIT ON SPECIAL WHEELS THAT REQUIRE INVERTED LUGS. WE WILL ALSO NOT ACCEPT RETURNS FROM CUSTOMERS THAT TRY TO USE THEM FOR THESE TYPES OF WHEELS.
---
Share this Product