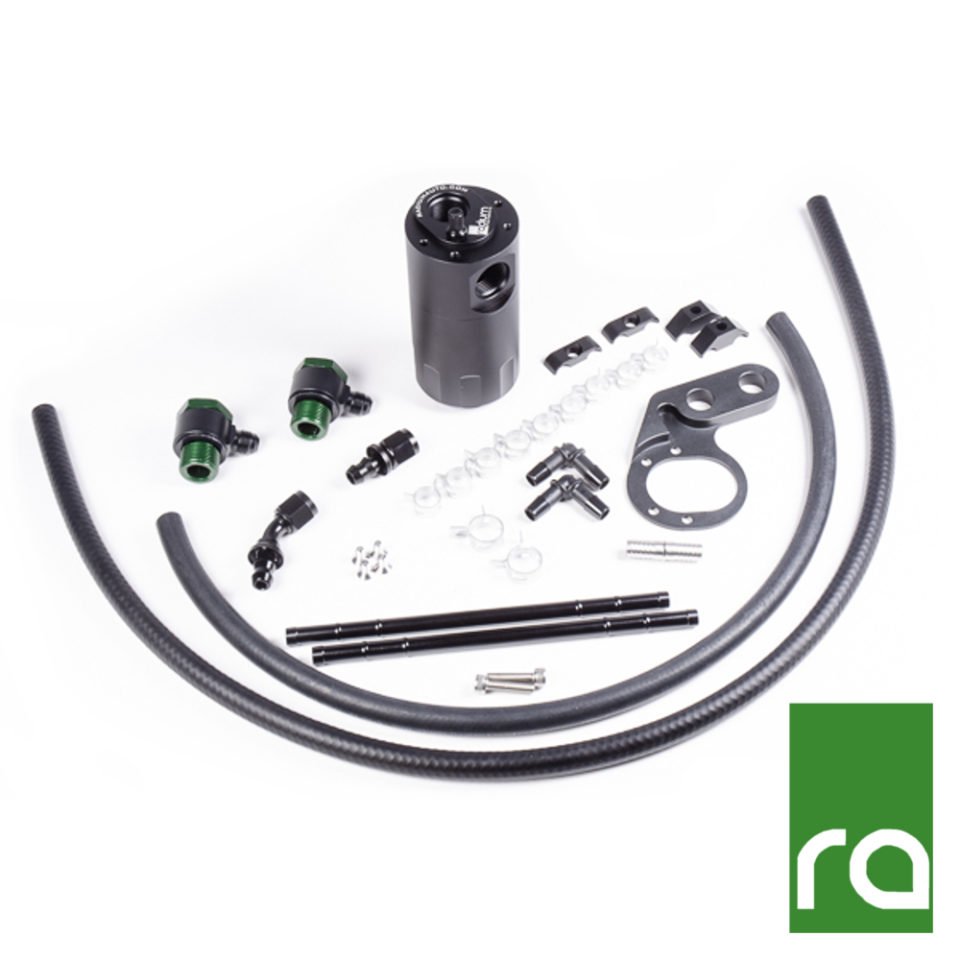 Radium Engineering
Radium Engineering CCV Catch Can Kit – 2017-2019 Honda Civic Type-R
---
The Radium Engineering catch cans are the most functional and integrated kits on the market. The catch cans mount using factory holes and integrate perfectly with the surrounding components. These two oil catch cans (PCV side and CCV side) function completely independent of each other and are sold individually or together. They do NOT vent to atmosphere (VTA), thus are emissions and track legal. Closed-loop systems remove the oil and sludge from the PCV gasses before it is routed to the engine to be burned. A closed-loop system also promotes negative crankcase pressure for optimal performance. Furthermore, closed systems prevent unwanted oil vapors from entering the cabin. The dipsticks built into the catch cans allow easy inspection of accumulated fluid. No cutting, drilling or permanent modification to the vehicle is required.
NOTE: This part is for the CCV connection, for other options please see the links below:
Radium Engineering PCV Catch Can Kit – 2017-2019 Honda Civic Type-R
Radium Engineering Dual Catch Can Kit – 2017-2019 Honda Civic Type-R
The CCV Catch Can Kit for the Civic Type-R fits under the OEM engine cover with no modifications required.


The catch can secures to the RH motor mount (shown above). If an aftermarket motor mount is used, minor modifications may be required. This catch can runs inline with the crankcase vent port. At low loads, it experiences atmospheric pressure, but when the engine is at high load (WOT), this line will experience high flow out of the crankcase. This would normally lead to oil and sludge accumulation in the air filter intake pipe. Oil accumulation will occur in the intercooler which lowers the thermal efficiency properties of the heat exchanger and leads to decreased performance.
The crankcase vent lines are routed over the engine and billet clamped to the turbo inlet pipe using temperature resistant metal tubes.

PETCOCK DRAIN KIT OPTION, NOT INCLUDED
-Anodized 4AN ORB barbed fitting
-Nylon ¼" barb mini ball valve
-PCV Compliant Rubber Hose
This kit, sold separately, can be used to remotely drain the catch cans without the need to unscrew the canister body. Linked HERE.

---
Share this Product
---
More from this collection