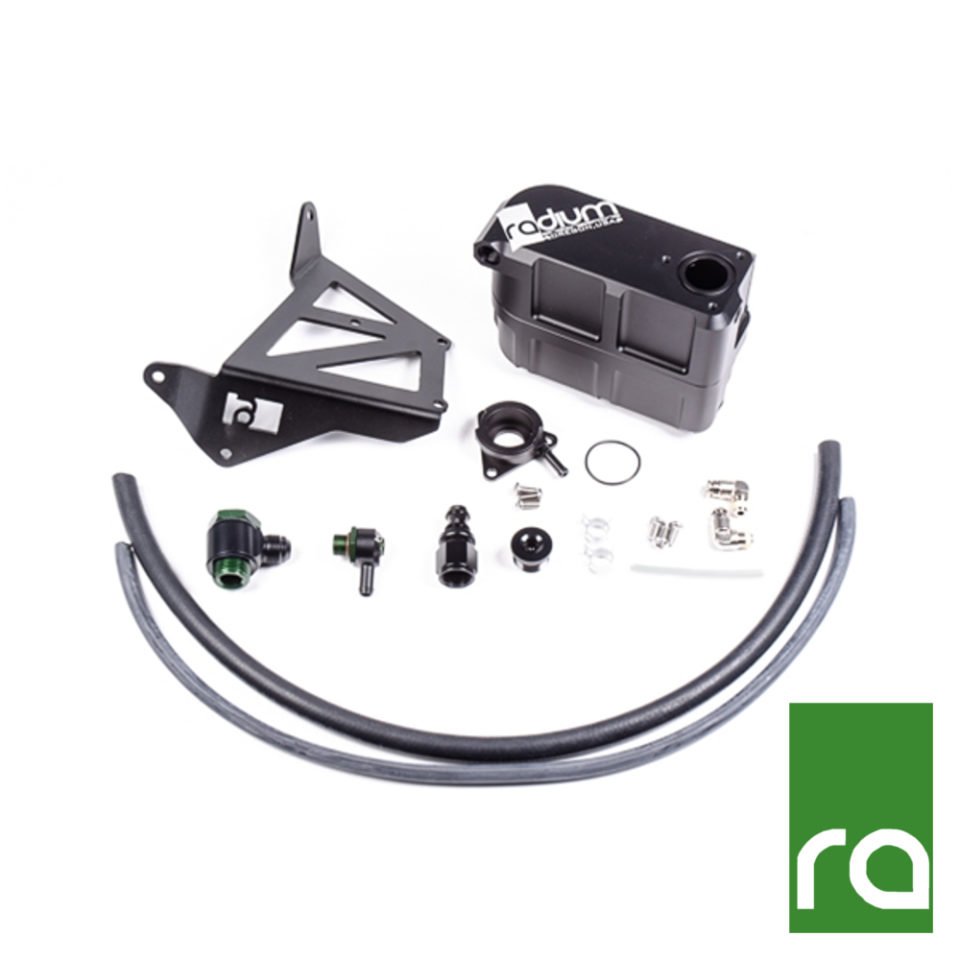 Radium Engineering
Radium Engineering Coolant Expansion Tank Kit – 2017-2019 Honda Civic Type-R
---
Because of continuous and intense heat cycling, plastic coolant tanks have a reputation of failing over time. Fortunately, the rugged 2-piece Radium Engineering replacement is CNC machined from aluminum and anodized for increased longevity. And because aluminum is a superior thermal conductor material, heat transfer is further improved. Additionally, metal construction is robust enough to use in racing applications.
This FK8 Type-R kit directly replaces the plastic Honda tank without making permanent modifications to the vehicle. A specially designed mounting bracket secures to existing threaded holes and Radium adapter fittings interface with the factory lines. The tank functionality remains the same as the OEM cooling system.


The Radium Engineering Coolant Expansion Tank has proved itself over the years in many applications all over the world, in race and street vehicles. The internal volume of the Radium Engineering Coolant Expansion Tank is equivalent to the OEM tank resulting in no coolant loss.


The internal design features two chambers with cross-over passages at the top and bottom. The coolant tank also has an internal swirl feature aiding in deaerating the system. For more details on the coolant tank, click HERE.

The kit includes all parts necessary for installation. NOTE: The OEM 1.3 Bar Honda pressure cap can be re-used. Alternatively, various pressure reliefs of the Radium Engineering Type-A cap can be purchased HERE.
---
Included
-2-Piece Billet Aluminum Tank
-Aluminum Mounting Bracket
-Aluminum Adapter Fittings
-Heater Hose, 5/16″
-Overflow Hose, 7/32″
-Stainless Steel Hardware
---
Share this Product
---
More from this collection