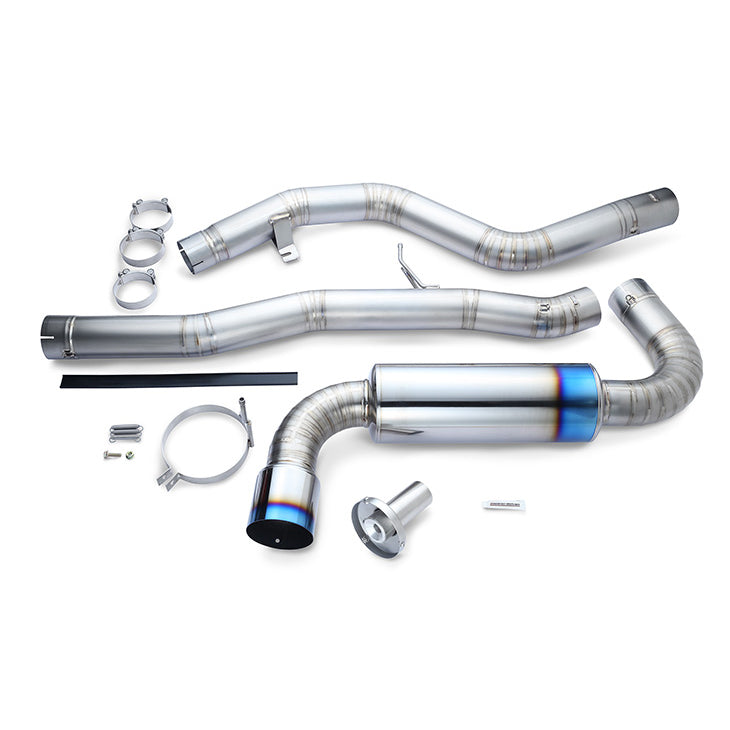 Tomei Powered
Tomei Full Titanium Expreme Ti Exhaust (Type R / Single Muffler) - Toyota GR Supra A90 3.0 B58 2020+
---
Original Titanium Material
- Sourcing raw materials allows Tomei to significantly improve quality whilst also keeping the price low. In addition, having complete control over the raw materials and manufacturing process is what allows Tomei to produce high quality products at an affordable price.
Silencer
- The 152mm silencer casing is made with exhaust efficiency in mind. Each unit is embossed with our logo then polished and heat treated for our signature look. The all titanium 1mm thick inner tube features 3 perforations spaced 5mm apart to achieve an open area ratio of 32.6%. Using titanium maximizes weight reduction and durability whilst also providing that distinct racing sound. Long Fiber glass wool is used in all Tomei silencers. Compared to short fiber glass wool, longer fibers are much more resilient to wear especially against prolonged high temperatures / pressure conditions.
The stock mainpipe is covered with unnecessary dents, resulting in poor exhaust flow. The exhaust pipe also differs in diameter, which restricts the exhaust flow. Drop weight, add better sound, and more performance with a Full Titanium Tomei exhaust.
PART No.: TB6090-TY06A
MATERIAL: Titanium
MAIN PIPE DIAMETER: 3.51inch (89.1mm)
MAIN PIPE THICKNESS: 1.0mm
MAIN SILENCER DIAMETER: 5.98inch (152mm)
MAIN SILENCER THICKNESS: 1.0mm
EXIT DIAMETER: 4.53inch (115mm)
EXIT THICKNESS: 1.0mm
WEIGHT: 7.8kg (compared to 25.1kg stock)
---
Share this Product
---
More from this collection